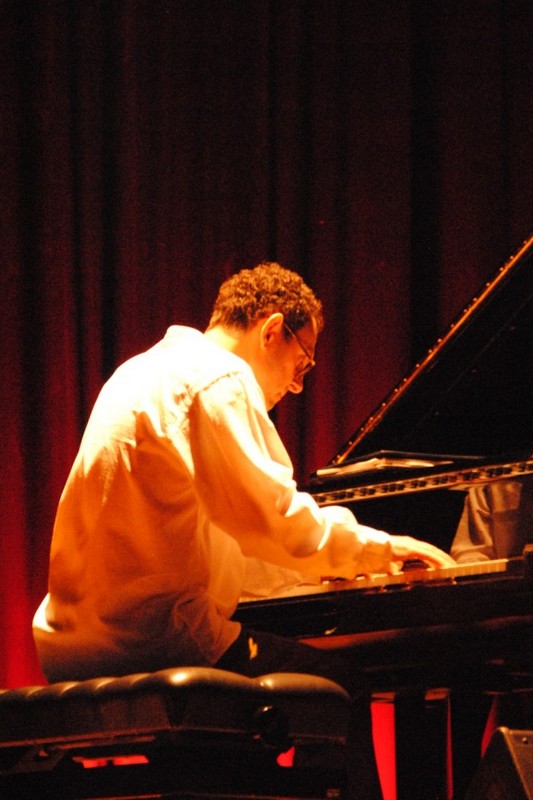 ARTIST BIO
FRANCESCO CROSARA is a jazz pianist, composer and recording artist who has performed at selected musical venues internationally. Format varies from piano solo to duet, trio, or larger group.
PERFORMED WITH
Lionel Hampton, Freddie Hubbard, Roy Hargrove, Richie Cole, Von Freeman, Bobby Shew, Ira Sullivan, Don Menza, John Heard, Gabe Baltazar, Mayuto Correa, Bruce Forman, Barbara Morrison, Earl Palmer, Mark Lewis, and Lilian Terry.
STYLE
Straight-ahead Jazz standards and original compositions, with elements of Latin, Fusion, Classical and World music.
Read more
EVENTS
Follow Francesco's performance schedule from Facebook Events
Poster artwork and design by Julia Wright Studio
Schedule & Posters
DISCOGRAPHY
Francesco Crosara's discography. Includes CDs, MP3s, original albums, collaborations, and compilations
MUSIC
Scroll down the music player and click on a CD track to start playing the full song
OPEN THE MP3 PLAYER
VIDEOS
SUITE VENUS (by Francesco Crosara), Live at Wazz Jazz Club, Osaka, Japan
Featuring Francesco Crosara (piano), Yasushi Gonjo (bass), Eric Wiegmann (percussions), Larry Marshall (drums)
See more videos
PHOTOS
View Francesco's music photos through the years. from performances across the world, to family photos with jazz greats, to poster artwork and more
Browse all photos
"Francesco, your music is wonderful – always has been. Play what you love and saturate the world with it"
Chick Corea

Chick Corea

"A pianist who originally hails from Italy, Crosara is well-versed in bop lore, and his delicate flow might indicate a debt to Bill Evans"
John Janowiak, Down Beat, April 2000

Down Beat Magazine

"the kind of sensitive swing seldom heard since Bill Evans. Crosara's rubato meanderings are precious insights into his fertile imagination and harmonic daring"
Harvey Siders, JazzTimes Magazine, April 2000

Jazz Times Magazine

"The piano echoes notes like twinkling stars, beauty surrounded by silence. […] You'll dance through your tears and love the loneliness, I did"
John Barrett Jr, JazzImprov Magazine

Jazz Improv Magazine

"Francesco Crosara proves he is a pianist with expert chops and broad interests. […] Crosara has an awareness of world music but a firm grounding in the modern jazz vernacular. His major piano influences are unsurprising: Herbie Hancock and Chick Corea. Like them, he has an interest in electric as well as acoustic jazz"
Joel Roberts, All About Jazz

All About Jazz

"Francesco Crosara has been a world traveler in both his life and his music. He is a strikingly original pianist who displays his own inventive style while reviving standards and debuting new suites"
Scott Yanow, Jazz Journalist & Author

Scott Yanow
CONTACT
To sign up for our mailing list, or to inquire about bookings or other information, just fill in the contact form below. You can also send us an email message.